We Have The Necessary Equipment To Restore Your Manhattan Apartments
5/17/2019 (Permalink)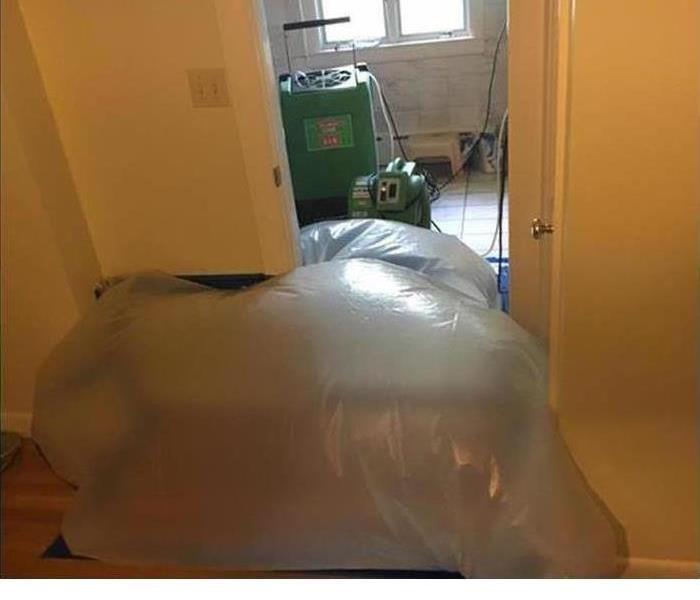 Water damage at this Manhattan apartment was the result of a burst water pipe and we had the equipment to handle the restoration needs.
How Drying Mats Remove Water Damage in Manhattan Apartments
Water loss incidents are more common in Manhattan apartments than many property owners might care to believe. With so many units sharing the same floor and multiple stories of these units stacked on top of one another, an issue in any single apartment could have widespread and detrimental effects. Even smaller-scale water loss incidents can spread their effects through multiple properties, requiring a fast and thorough response from qualified and trained restoration specialists like ours.
One of the tools that our SERVPRO professionals use when we respond to widespread water damage in the Manhattan high rise apartments is drying mats. With many of the units featuring hardwood floor or vinyl alternatives for a modern and sophisticated appearance, water damage can be very damaging to these surfaces. Even with flooring designed to resist water, standing liquid can often find creases and vulnerabilities to soak both through the planks in the flooring and the subflooring padding as well.
We intend to ensure that no homeowner has to replace their entire affected flooring when we respond to water emergencies. While some situations require controlled demolition and replacement, the right response with clean water incidents can help to protect installed materials from requiring removal. While air movers and dehumidifiers can work to address concerns above the flooring, the Injecti-Dry System and drying mats can address the issues underneath.
Drying mats get used in sets and can slowly draw moisture from affected materials. With wood flooring, it is imperative to monitor moisture content to ensure that flooring does not become overly dry. Our SERVPRO technicians keep monitors installed over the tenting of these units to continually keep track of humidity to ensure that we remove the equipment once the water loss effects get addressed.
With how quickly Manhattan apartments can become water damaged from water loss incidents, it is essential to get the right professionals there quickly to help. Our SERVPRO of Upper West Side has a fast response with qualified technicians that can make it "Like it never even happened." Give us a call anytime at (917) 498-1362.
Click here to learn more about one of the world's premier music conservatories.