We Have The Proper Techniques To Restore Your Manhattan Home After A Flood
12/19/2019 (Permalink)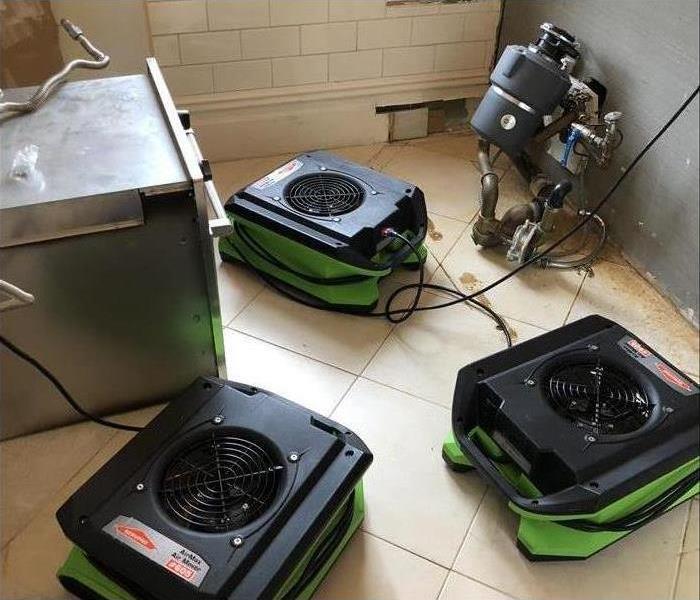 Our equipment dried out the residual moisture during this partial demolition after a flood disaster hit this home.
Crucial Steps in Managing Flood Damage Incidents in Manhattan Involving Sanitary Water
Flooding incidents cause different categories of water loss. Category-one water loss involves sanitary water and mostly happens when rainwater filters into the house. Typical scenarios include winds or debris opening up holes on the roof, letting in rainwater. Alternatively, driving rain can push rainwater through gaps in doors or windows. With a few crucial steps, it is possible to control flood damage involving sanitary water.
Protecting Contents
When flood damage incidents in Manhattan involve sanitary water, the intrusion point is usually at an elevated point, meaning no groundwater reaches the interior. Such incidents can affect more items, so there is a need to protect them. In case we find an ongoing intrusion such as arriving when it is still raining or when draining water trapped in the ceiling, our SERVPRO technicians use plastic sheets to cover contents protecting them from unnecessary exposure. We also use towels to wipe off excess water from items and remove materials from the floor where most collects.
Expedited Water Extraction
Extracting the standing water left after flood damage strikes helps kick start restoration of the property to its preloss state. Extracting the water requires equipment with the right lift and volume capacity. A truck-mounted water extractor helps our SERVPRO crews move significant volumes of water within a short period. For minor intrusions, portable extractors are sufficient. Sometime the floor type might influence the extraction method. For example, on hardwood floors use of towels to remove water, then setting up drying mats might be appropriate in some cases.
Humidity Control
Moisture build-up in the structure is common during flooding. Although the drying process starts fully after other restoration steps, including water extraction and cleaning, there is a need for humidity control before that to prevent secondary damage caused by moisture migration. Our SERVPRO crews use different approaches to provide this control, including setting up some dehumidifiers or maintaining negative pressure in some areas.
Even though flooding happens unexpectedly, it is possible to manage the outcome. Call SERVPRO of Upper West Side at (917) 498-1362 to help. We're Faster To Any Size Disaster.
See more about Manhattan.