Get the Experts Opinion on Water Damage Remediation in Your Manhattan Property
6/16/2019 (Permalink)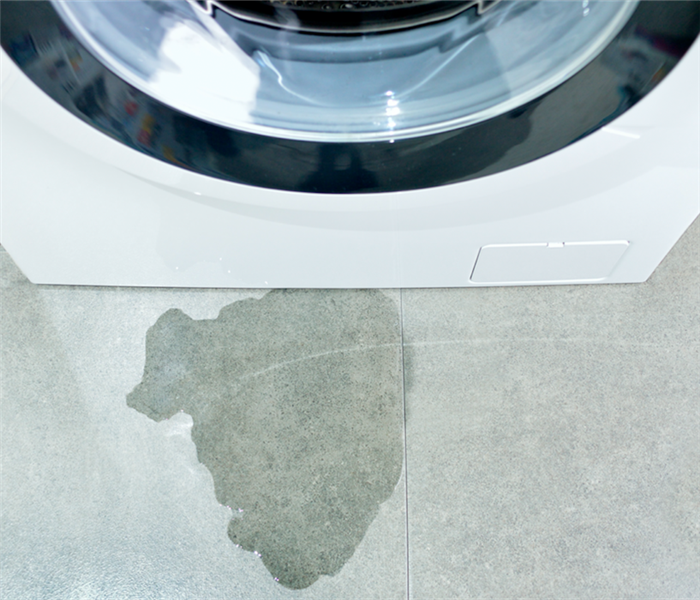 Water damage can happen in the most unsuspecting places like underneath a washing machine. Contact SERVPRO today for remediation assistance.
SERVPRO Helps Homeowner Avoid Secondary Damage Through Fast Action Against Water Damage
When water damage happens to a property in The City, you need the clean up to begin as quickly as possible. The faster the moisture levels are lowered in the affected areas, the more potential for limiting loss.
SERVPRO answered a call to mitigate water damage in a Manhattan home late one night and arrived on site within hours of the initial request. The source of the water loss came from a supply line in a laundry room to the incorrect installation of a new washing machine. When the homeowner tossed in his weekly laundry load and fell asleep on the sofa, he awoke to pools of water in his laundry room.
Why SERVPRO? Our technicians have extensive training and numerous certifications in the restoration sciences. This knowledge enables us to save more home contents and building materials from being counted as a water loss through our proprietary methods.
One factor that worked in the homeowner's favor was how quickly he called for mitigation. He had turned off the water and mopped up the standing water before out technicians arrived.
When our technicians scoped the laundry room, we found elevated levels of moisture in several places. Just above the baseboards water wicked into the sheetrock on one wall. Because it did not appear damaged and showed no signs of warping or buckling, the technicians drilled weep holes to allow the wall to dry with additional airflow.
Thorough lowering of moisture levels inhibits both the growth of mold and reduces foul odors that water loss can leave behind. Once the drying phase completed, our technicians wiped all surfaces with our powerful antifungal cleaners.
Although no discernable odors remained, to ensure the laundry room remained smelling clean, our technicians used time-release gel pellets to deodorize the room.
SERVPRO of Upper West Side knows you need help with water damage sooner rather than later. Contact our emergency response team at (917) 498-1362, and we can be on-site within hours to make your water loss, "Like it never even happened."
Click here to see more about Manhattan.