What Are Common Sources of Water Damage in High Rise Properties?
4/28/2020 (Permalink)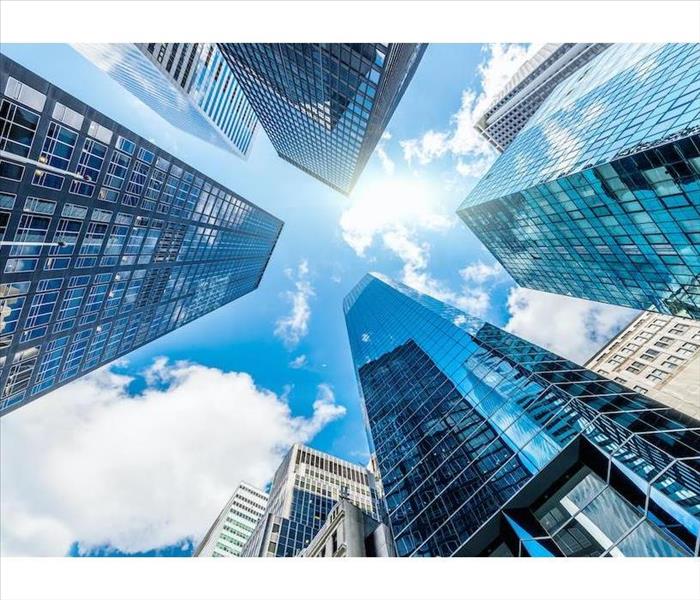 Our water damage technicians have the equipment and experience to restore your property to pre-damage condition.
Line Up the Commercial Disaster Recovery Experts at SERVPRO to Minimize Water Loss Disruption and Expense on the Upper West Side
The sheer size of a highrise building in Manhattan or any other major city in the country hints at the challenges waiting for a building manager when just one tenant suffers from a water loss. All of the advantages the tightly-knit community of residences, retailers, restaurants, and specialty goods and services providers offer has a negative effect when dozens to hundreds of separate units can share the damaging effects of a leak, spill, or appliance breakdown.
How Much Damage Can a Tiny Leak Do in a Multi-Story Building?
The migration of water damage in an Upper West Side mixed-use multi-story building can be considerable. A cracked pipe or loose plumbing connection in an upper floor condo might only dampen the bottom of the sink cabinet in the first unit before the water flows between walls down many stories, following utility lines or supportive structures, collecting in an ever-widening pool at the street or basement level. Modern construction methods tend to tuck pipes and drains in hidden spaces, meaning that small leaks become enormous problems before anyone notices. A few gallons of water leaking daily can become a crumbled series of walls down to a collapsed ceiling on a floor where the layout of the rooms varies, funneling the fluid onto a floor or other flat surface until the weight destroys building materials.
Where Does the Water Originate?
In the interrelated warren of rooms, hallways, elevators, and stairways that make up a typical highrise building, the following not exhaustive list of potential sources of damaging water are seen frequently by our experienced commercial restoration project managers and technicians:
Damaged or poorly maintained roofs
Boilers and piping that distribute hot water for pump and gravity heating systems
Other heating, ventilation, and cooling systems (HVAC) that deliver and collect water, including condensate AC systems
Cold (supply) and hot water, including storage tanks to make provision to many units more efficient
Bathtubs and showers
Kitchens
Waste or sewer pipes
High-pressure sprinkler systems to meet fire codes
Appliances, including:
Dish and clothes washers
Water heaters
Spas
Freezers and refrigerators, both manual and self-defrosting
Ice makers
Humidifiers
Dehumidifiers
Window and free-standing air conditioners
Aquariums
Buildings with pools or health clubs add another few boxes to tick as we look for a water origin. Locker rooms, saunas, and hot tubs can expose the rest of the structure to substantial water damage.
What Are Solutions for Large-Scale Commercial Water Loss?
Engage the services of a local water mitigation and remediation company with a scalable, rapid response capability. We have our emergency response team available 24 hours a day, 7 days a week. Our company also can leverage the resources of the SERVPRO national network of restoration professionals if necessary.
How Essential Are Commercial Grade Equipment and Highly-Trained Technicians?
Water damage in a commercial setting mandates the use of appropriate equipment operated by individuals who mastered comprehensive training from the Institute of Inspection, Cleaning, and Restoration Certification (IICRC). Although you may employ or contract with exemplary housekeeping and building maintenance services, water removal and structural drying require specialized skills performed by certified workers who focus solely on water damage recovery.
Is Water Detection Necessary in a Large Scale Project?
Although it requires tenaciousness, exhaustive moisture detection and migration mapping are worth every moment they take as we assess a commercial water damage scenario. Failure to discover the water source and trace the many pathways moisture took throughout the building guarantees that progressive deterioration continues, and secondary damage such as mold infestation is a near certainty. Our Building Moisture Thermography (BMT) technicians join forces with our Water Restoration Technicians (WRT) and Applied Structural Drying (ASD) certified employees to ensure we account for the water and absorbed moisture throughout the building as we design the mitigation and remediation plan.
What Is the Next Phase After Trained Technicians Find the Water?
Our crews bring adequate inventories of pumps and truck-mounted or portable extractors to begin water removal. Best practices might lead to controlled demolition, accessing hidden water using flood cuts and holes drilled in walls, baseboards, and mortar joints. Standing water is extracted as entirely as possible, and then drying plans finalize.
How Does Drying Happen in a Commercial Building?
Although it is tempting to consider oversized responses to a large building, the reality is that drying in multi-unit construction is completed space by space. Rather than increasing the size of air movers and dehumidifiers, we increase the number of pieces of equipment, deploying them in each space that needs drying. When we contain wet areas, the drying rate accelerates, so with multiple containment spaces, the overall project approached completion.
SERVPRO of Upper West Side is familiar with the challenges of water detection and removal in highrise, multi-use buildings. Give us a call at (917) 498-1362 to explore your options 24/7.